There are times when we can forget even the most consistent items in our lives like our keys, glasses, socks or even where we left our shoes. It's no surprise that we lose track of some essential codes too. For most situations, you could maybe set up a few reminders or keep the items in designated locations so they can be easily located. But, If you're in a tricky situation with your ford keyless entry, this article can give you a step-by-step guide on how to rest ford keyless entry without factory code.
However, the reset process will depend on which model ford is in your possession. The steps for resetting the code may also differ from model to model. But, we've managed to list a few simple steps that can work for most of them.
Here, you will also get a few other tips on reprograming the codes, so keep reading for all the best tips and tricks.
Step by step guide to reset your Ford keyless entry without factory code
There are many models that support a Ford keyless entry without factory code, and we've made sure you have the list down below. If you have one that falls within the mentioned models, you can definitely try these steps for yourself.
Step 1: You will have to access an online generator and get a factory reset code
Step 2: Enter the temporary code you've acquired for the factory reset.
Step 3: Once step two is completed, you can press buttons one and two. You will need to press them individually within 5-second intervals.
Step 4: Now, you'll have to key in a5 digit code of your preference. The digits should be keyed in individually within 5-second intervals of each other.
Step 5: After the five-digit code has been keyed in, you will have to press one and two within 5 seconds.
Step 6: The doors should lock and unlock if the process is successful.
You can actually store up to 5 codes for your ford keyless entry, and you just need to change the numbers' sequence to confirm the codes.
So, for example, you will have to key in three and four for the second code, five and six for the third and so on.
Even after the codes have been set, the factory code will still work for the keyless entry. This will make a total of 6 codes you can use to access your vehicle.
Another way of finding your 5 digit code is through the RAP Module (Remote Anti-Theft Personality).
Step 1: Access the RAP model in the back of the vehicle. It will be available in a removable panel.
Step 2: Once the panel is located, you'll have to remove it by turning the two-thumb counterclockwise.
Step 3: Once the panel is removed, you can check for a label that has the code.
How to erase a code?
An individual code cannot be erased, but you can erase the saved codes by simply:
Entering the factory-set code
Pressing one and two within a five-second interval
Now press one and two for two seconds within five seconds of pressing one and two.
This will ensure all your codes have been wiped clean, and you can set new ones.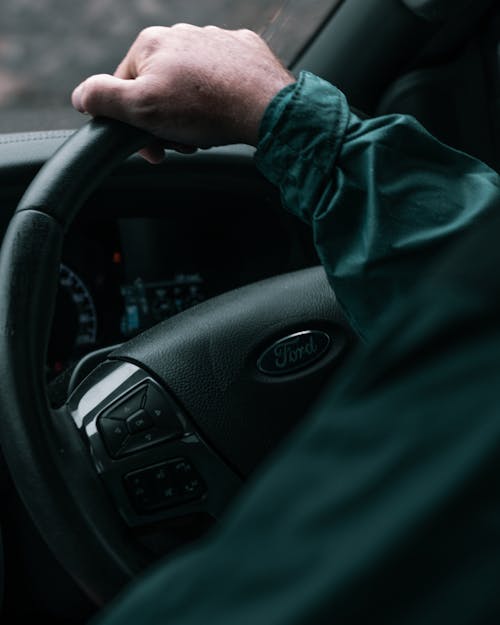 Benefits of Ford Keyless entry.
There are many advantages of having a keyless entry. Once you've set up the codes, you can have access to a multitude of features like:
Being able to lock and unlock your car without a key.
You can quickly access your vehicle if you lock in your keys in your car.
It becomes a handy feature if you cannot carry your keys around.
It's also a great way to warm up the vehicle before using it.
It Arms and disarms your anti-theft alarm.
How to lock and Unlock Ford Keyless doors?
If you're new to the Ford Keyless system and trying to figure out how to operate them, here's a quick tutorial for you.
Unlocking ford keyless doors.
Enter the factory code or your personal code pressing each number within five-second intervals.
Press three and four within a 5-second time frame.
Check and see if the interior lamps light up.
If the interior lamps come on, the process is successful, and the doors will unlock.
Locking ford keyless doors.
Make sure all the doors are shut before initiating the locking process.
You will have to press seven and eight and nine and zero simultaneously.
Entering your five-digit code or the factory code is not required for locking the doors.
Unlocking Trunk
You must enter the 5 digit code Within 5-second intervals.
Press the five and six-button within 5 seconds.
How to find factory codes.
If you are determined to find the codes and want to know how you can gain access to them, here are a few steps on how to do that.
You can either use the integrated keyhead transmitters or the intelligent Access keys.
The code will be displayed in the information display for integrated keyhead transmitters. To do this, you will have to:
Have one key inserted into the ignition and keep it switched on for about five seconds.
Now add the second key and repeat the process.
Most cars have warning messages before the code is displayed. Once the messages are completed, the code is displayed for about five minutes.
When the code is displayed, you can take it down or take a picture and save it.
Another way to display the code on the information display is by using intelligent access keys. To do this, you'll have to:
Use the 1st programmed key by sliding it inside in the backup slot located in the center console.
The key ring must be at the tip, and the buttons should face the rear.
Once the key is set, press the start and stop button once, wait for 5 seconds, and press them again.
You can now remove the key. Slide the 1st key out, slide in the 2nd key, and press the start and stop button.
This process should initiate the warning messages before the code.
After which, the code will be displayed after 5 seconds.
You can now save the code.
Ford models that support Keyless entry without factory code
Finally, here is a list of Ford models that you can reset keyless entry without factory code:
Fiesta, Fusion, Focus, C Max, Kuga, Truck, Puma, Connect, KA, Mondeo, Galaxy, Ranger, Transit etc.